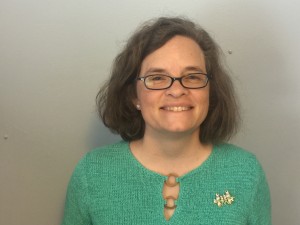 Teacher Profile: Bernie Adams
Bernie Adams – High School Computer Programming
"I am honored to be at Living Science teaching high school students about computer science and programming while also encouraging them to have Christ as their moral compass." — Bernie Adams
Since Bernie Adams began teaching computer science and programming at Living Science in August of 2015, she has combined two of her greatest passions: children's education with science and technology. Applying both with a biblical focus in her classroom, she firmly believes that "the world was created by God exactly the way he described it in Genesis."
In 1995, Bernie graduated from Kennesaw State University with a degree in Computer Science. In her college years and the years following, she would work as a quality assurance and compatibility tester for IBM and S2 Systems. She also dedicated six years to teaching Sunday school for K3 students at Mount Paran North Church of God, where she was also the Children's Librarian.
As a Boy Scouts of America Advancement Chair, she managed the youth advancement of a medium sized troop. She also served both as a Cub Scout Den Leader and Boy Scouts Merit Badge Counselor.
Bernie's work experiences influence her teaching style and passion for children's science and technology education. For 9th through 12th – grade students, Bernie teaches the Computer Programming I which provides an introduction to computing using HTML and CSS to develop web pages and uses Python to explore basic programming concepts. She also teaches Computer Programming II which explores more advanced programming concepts using Java and introduces Android application development.
Bernie also encourages students to look at their decisions throughout the day and ask "What Would Jesus Do?" and she believes that the answer can always be found in prayer and biblical reflection.
Outside of teaching at Living Science, Bernie enjoys all forms of sewing, from crochet to quilting. She also enjoys doing various activities out-of-doors. In particular, she cherishes camping and gardening.
Share This Story - Choose Your Platform!