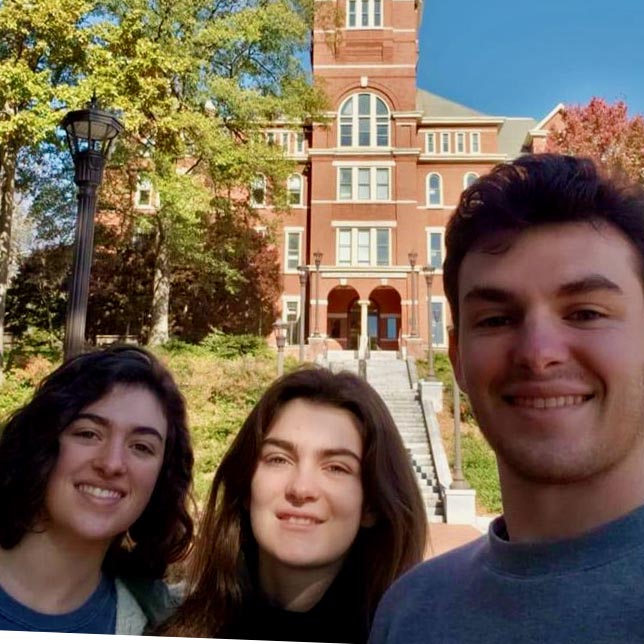 Science Living: Frick Siblings Excel at Georgia Tech
All three Frick siblings, Geoffrey, Alicia, and Adriana, attended Living Science Academy through middle and high school. This year, they are all students at Georgia Tech.
Geoffrey graduated cum laude with a B.S. degree in Mechanical Engineering from Auburn University last May. While at Auburn, he was active in the Auburn Christian Student Center, going on several mission trips as well as mentoring and serving during his school breaks. With one of his professors, Geoffrey also researched the use of inexpensive gaming equipment to provide an economical tool for doctors doing sports injury analysis. At Tech, he is working on a Master's degree in Biomedical Engineering focusing on immunology.
Alicia discovered a passion for rocket engines as a junior at Living Science. She is now a senior in Aerospace Engineering at Tech. Besides being active in Baptist Campus Ministries (BCM), Alicia has had internships with Aerojet Rocketdyne and has participated in both the Yellow Jackets Space Program and Georgia Tech's Rambling Rocket Club (GTRX). She plans to complete a Master's degree and then work in the burgeoning rocket industry.
Adriana, a talented artist who was planning a fine arts career, found herself entranced by space exploration during high school, after a visit to the U.S. Space and Rocket Center in Huntsville. She immediately took an avid dive into math and science and ended up following her sister to Tech where she also is active in BCM. A physics major, Adriana has joined the Air Force ROTC program with the aspiration of becoming an astronaut.
Julia & Greg are firm believers that the reasons their kids have been successful in pursuing engineering and science degrees at GA Tech is first and foremost because of the God-centered programs of Living Science. To quote Greg,
"Living Science has been pivotal in our journey as a family and our journey to salvation through Christ. In hindsight, coming into Living Science, none of us would consider ourselves as being saved at the time. Living Science provided the foundation that led us on our journey to being saved. In addition, they also provided a foundation for a love of all things technical by teaching science and technology as part of God's creation. When you explore the laws of physics or biological mechanisms for metabolism, you're learning and understanding how God created us all and how God's creation works. This is the reason our kids have all been able to get into Georgia Tech and be successful at it. We LOVE Living Science and encourage others to learn more about it!"
Share This Story - Choose Your Platform!