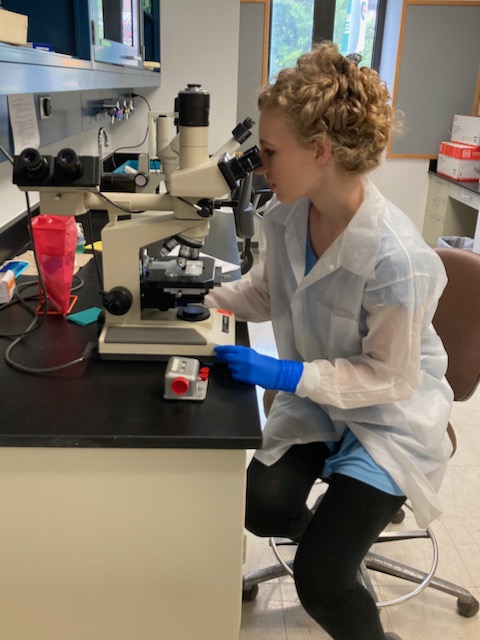 Science Living: Claire Gallion, COVID-19 Research Intern
Claire Gallion, '18, is a senior premed student at Birmingham-Southern College (BSC). She spent the summer of 2021 in a lab as a research intern at the University of Alabama at Birmingham (UAB) where she studied how COVID-19 infection affects the innate immune response to fungi. We asked Claire to give a high-level description of her research, which she will present at the Association of Southeastern Biologists this spring:
People who suffer from severe COVID-19 infections often get fungal infections in their lungs. These fungal infections increase their risk of death. Healthy people with a normal immune system can easily fight off such fungi, but people with a weakened immune system cannot, and nor can people with severe COVID-19. To better understand how COVID-19 might affect the immune system's ability to kill fungi, we looked at white blood cells, which help defend the body against germs.

We designed a way to test the fungal killing ability of a specific type of white blood cell called a neutrophil. This test can help us begin to understand how neutrophils are affected by changes in the lung caused by severe COVID-19.

One of these changes is the "cytokine storm," in which certain types of chemical messengers between cells (cytokines) greatly increase, causing tissue damage in the process. Using our test, we found that some of these increased cytokines may improve neutrophils' ability to kill fungi.

By understanding why people with severe COVID-19 are getting these fungal infections, and what happens when they do, we can help physicians and scientists prevent and treat them.

—Claire Gallion
At BSC, Claire is studying bacterial cross resistance to heavy metals and antibiotics. She will graduate in biology in Spring, 2022, and plans to attend Medical College of Georgia this fall.
Share This Story - Choose Your Platform!