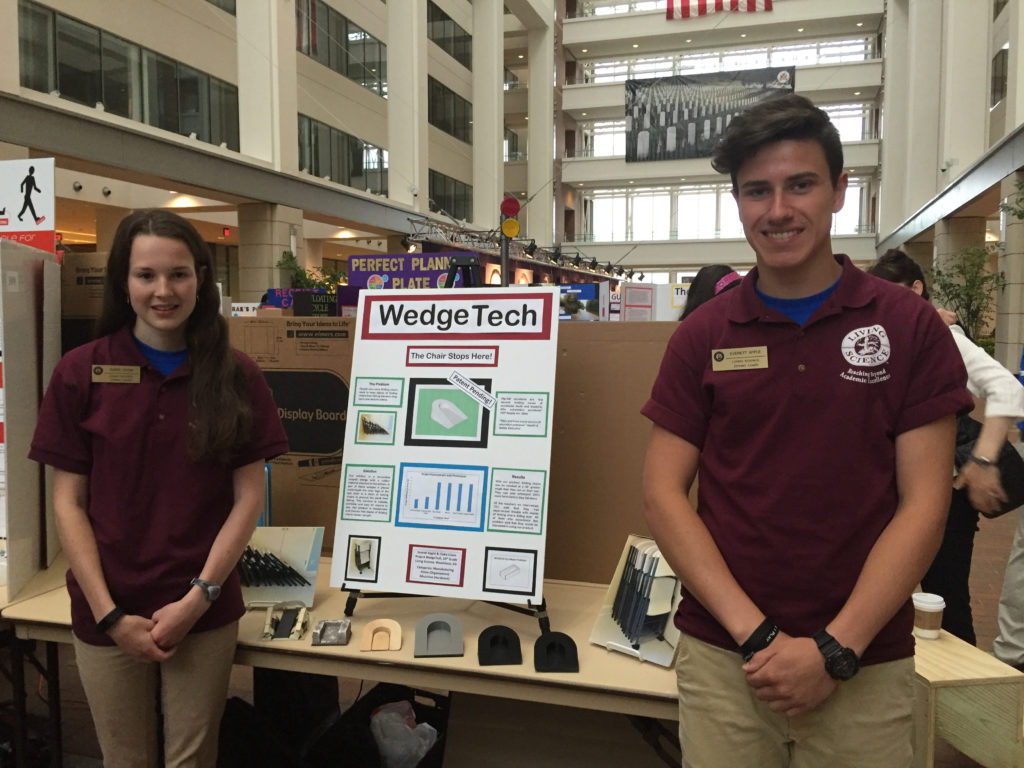 Team WedgeTech Goes to Washington
Living Science STEM students take 2nd place in high school division of the National Invention Convention and Entrepreneurial Expo in D.C.
Everett Apple and Claire Crose, sophomore Engineering Essentials students at Living Science, took their WedgeTech invention to the National Invention Convention and Entrepreneurship Expo (NICEE) in Washington, D.C., last week and returned with a 2nd place award in the high school division.
STEMIE (Science, Technology, Engineering, and Math linked to Invention and Entrepreneurship) organized the inaugural convention, held at the United States Patent and Trademark Office. STEMIE is a national educational coalition with a goal of bringing invention and entrepreneurship training to K-12 students nationwide.  More than 260 student entries from 15 states competed. All had won state-level competitions.  Team WedgeTech qualified with their 2nd place finish in the high school category and Top Manufacturing Award at the Georgia Tech K-12 InVenture Challenge in March.
So what, exactly, is a "WedgeTech"?
The often-unstable stacks of chairs in Living Science's multi-use classrooms inspired the team to seek a simple, inexpensive solution. They came up with a winner: small plastic horseshoe-shaped wedges that fit under the legs of the front chair of a stack, securing it via friction. The process involved developing several prototypes and seeking user input as they tested and refined the product.
Claire and Everett used their InVenture Challenge feedback and the time between the two competitions to move forward in the patenting process, filing both utility and design applications to obtain "patent pending" status before the national competition.
They also filmed and edited a short video commercial for the WedgeTech device with the help of several Living Science parents and teachers. You can see it here.
At the convention, a panel of judges interviewed each inventor or team. More than 120 judges from intellectual property-focused law firms, U.S. Government departments, corporations, teachers, and others from the D.C. area and from as far away as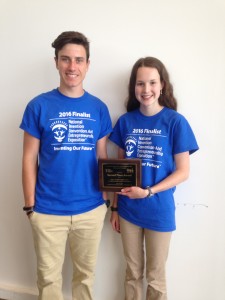 California, judged the competition. The students enjoyed learning from the many experts who attended and judged and from the competition process: "Participating in this competition was a highlight of the school year," Claire said. "I've learned so much and I'm eager to continue the process."
Everett expressed the team's gratitude for help given: "We were honored to represent Living Science, theGeorgia Tech InVenture team, and everyone who helped us along the way. This project was not easy, yet we were not alone. Many people invested many hours helping us throughout the entire process."
Next steps include completing the patent, finding a manufacturing partner, and marketing WedgeTech. According to Claire, the initial market will be "schools, community centers, and churches." We at Living Science are excited about this success; as Everett comments, "We are constantly praising the Lord for opening doors and we cannot wait to see what happens next."
WedgeTech Pitch Video

Georgia Tech K-12 InVenture Challenge

NICEE

STEMIE

WedgeTech article on STEMIE site
Share This Story - Choose Your Platform!