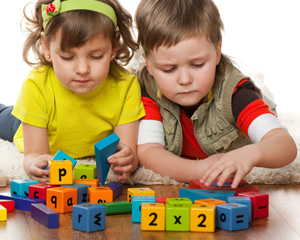 Childhood Education: Early STEM Learning
With the right guidance, children are capable of much more than we give them credit for.
Picture a first-grade classroom; maybe even go back to you were in first grade. Amidst all the excitement, your teacher gives you several hands-on activities on the topic you've been studying for the past week.
After the teacher passes out the tools and props that go along with the activity, students have time to discover what it is they have in front of them.
This "hands-on and explore" approach makes sense to children. It comes naturally to them. Every child learns differently. But generally, experience creates more excitement in any subject.
STEM – or science, technology, engineering and math – is a popular term in the education world, denoting an emphasis on those four core areas and the connections among them.
You might be asking yourself, "How can I prepare my young child for a STEM-based program?"
For the youngest students, STEM education builds an appreciation and understanding of science and the environment we live in. This appreciation then opens the door for technology, engineering and math.
So how can you start making STEM a part of your child's everyday life?
The best way is to immerse your child in a science environment tailored to his or her particular interests.  If she's fascinated by insects, get out a magnifying glass and let her see how furry a bee really is. If he loves airplanes, get out some paper and fold some paper planes to see which ones fly best.
It is also a great idea to relate subject matter to the physical world. If you are studying geometry, create a hands-on activity like building shapes with marshmallows.
At Living Science, we work with parents to create exciting learning experiences focused on each child's unique learning style. And one of the benefits of a Christian STEM home-school program is the ability to teach the basic scientific principles in creation with the flexibility children need to deepen their interest in life-long learning.
Contact us here or call us today at (770) 591-4141 to learn more about our program, or you can attend our next open house for enrollment on January 12, 2016.
Share This Story - Choose Your Platform!