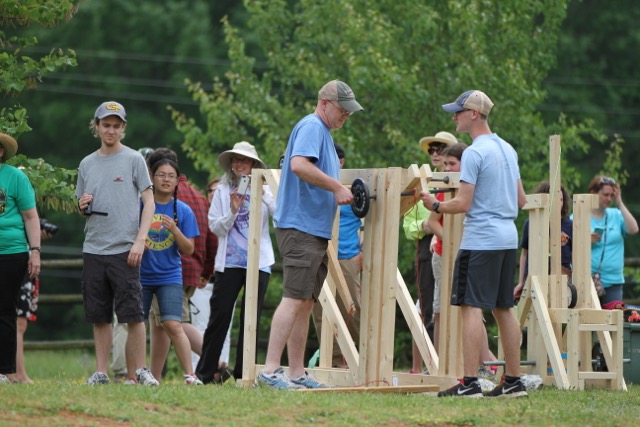 Fun for the Whole Family: STEM Trebuchet Competition
Trebuchet: n. a medieval military engine for hurling heavy missiles. (Merriam-Webster)
What does a medieval weapon have to do with teaching physics in the third millennium? At Living Science, quite a bit. A Living Science STEM tradition, the annual trebuchet contest features our high school physics students, each of whom designs and builds a working trebuchet. After these senior students have judged the Rube Goldberg Convention, it is their turn to be in the spotlight as they put their homegrown mechanical wonders through their paces.
So what are the trebuchet requirements?
< 4 feet high at the pivot point
Counterweight < 25 lbs
A tennis ball projectile with a small amount of weight added for ballast
A throw of at least 10 ft, measured from the pivot point.
Students had freedom to use any design they liked, as long as it fell inside the above parameters. They turned in notebooks that documented their development process: initial concept, detailed design, cost estimates, modifications, and efficiency calculations.
This year we had a new record for longest throw; senior Joseph Hill's fifer trebuchet shot the missile an amazing 131 ft—double the previous record!  Other competition categories are accuracy, this year won by Kelly Tims, whose floating arm trebuchet hit the target from a distance of more than 100 feet. The precision award (smallest standard deviation of three throws) went to Hailey Warner's floating arm treb.
So how did the students feel about the trebuchet project?
"It's been quite a journey making this project, but I've really enjoyed it.  I loved working with my dad and learning new skills.  Using both a chop saw and a nail gun are lots of fun and Dad was great about teaching me the safe way to do things."—Kelly Tims

Building a trebuchet has been a great experience. I really enjoyed the time I got to spend with my Dad and brothers while they helped me build it.  It has taught me that sometimes it is the little things that make the biggest differences.—Joseph Hill

"Building this trebuchet was a crazy experience.  It is one of the most interesting school projects I have ever done, and it equipped me with several useful life skills."  One of the most important things I learned through this project is the value of teamwork. Having to rely on others reminded me how much I have to rely on God. Everybody's gifts are so different, and we need every single one."
— Hailey Warner

"Trebuchets are like life – Sometimes stuff works, sometimes it does the complete opposite.  Life is just the same….  Celebrate moments when everything works, persevere through the times when it feels like everything is falling apart.  Nothing like a trebuchet to teach you that lesson.  God will get you through…every time."—Emma Gough
Share This Story - Choose Your Platform!