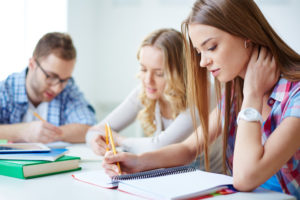 Living Science is partnering with Truett-McConnell University (TMU) to offer dual enrollment classes. Dual enrolled students take college classes and receive both high school and college credit. For students who are ready, dual enrollment is an excellent introduction to college-level work and can give them a head start on their college coursework. Dual-enrollment class credits transfer to all Georgia state schools and most other colleges and universities. Truett-McConnell has one of the best established dual enrollment programs in the state, and we are happy to offer it to our students.
Dual Enrollment Details
Classes are for high school students with junior or senior standing.
Students attend class once a week (Wednesdays) for 2.5 hours per class.
Spring classes begin January 10 and end May 9. Though the start and end dates are consistent with the TMU calendar, the breaks for Living Science dual enrolled students will coincide with our Servant Leader Retreat (week-long high school field trip) and Middle School Expedition, making these classes especially convenient for our students.
Upon successful completion of each semester-long class, students receive a full Carnegie Unit credit (representing a one-year high school class) from Living Science and three hours college credit from Truett-McConnell University.
What classes are offered?
Fall
Freshman Composition I (EN 101)
Introduction to Psychology (PY 201)
Spring
Freshman Composition 2 (EN 102)